Search found 2 matches
Search found 2 matches • Page 1 of 1
by SigmaTel71

Sun Feb 09, 2020 10:44 am
Forum: Mobile OS Discussion
Replies: 2
Views: 4989
I know that RemixOS is dead as door-nail. It was closed due to the lack of popularity and obvious fail of the device they tried to sell.
by SigmaTel71

Fri Feb 07, 2020 8:39 pm
Forum: YouTube Channel Discussion
Replies: 0
Views: 6561
I can't open
http://theoldnet.com/
for some reason. It sends empty response. Could my location (Russia) be the cause of the problem?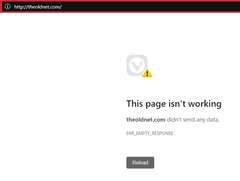 Search found 2 matches • Page 1 of 1